As I embark on my journey of
digging into the past, I will attempt to stay on task at writing about my experiences along the way. Thus begins a new series that will help me explore each aspect of a specific area in my research to help unearth all possibilities towards reaching a reasonable conclusion in each particular situation. There are so many fragments of information that I must somehow mold as pieces that hopefully can be assembled into the bigger picture for

answers

.
Although, I am not as accomplished as I would like to be, I hope to learn along the way. So with both feet, I will jump in, nonetheless. As the saying goes, "We must begin somewhere" "And there is no better time than the present". Ready or not.... Here we go...
Part 1 ~ 'Searching Ybor City'
Over a period of time, I have been slowly collecting articles with information on the Cuban culture in Ybor City,
c1900-1915.
Like so many, we tend to focus on areas that we find our ancestors lived or visited. As you may have already guessed, this location falls into that category.
Ybor City is of particular interest, as this is where my Grandfather migrated to from Cuba on his quest to America, the great land of opportunity.
For many, in that time of history, 'land of

opportunity'

simply meant the opportunity to start anew in life and find the means to make a living.
Ybor City
was founded
in 1886, by Vicente Martinez-Ybor and annexed in 1887 by Tampa.
Ybor City, Florida in 1886
Photo: Tampa Historical
society
Ybor City was settled originally by Cuban and Spanish immigrants who worked in countless numbers of booming cigar factories that continued to spring up and prosper. Many Italians and other Europeans migrated to the area as well and quickly added to the population.
Ybor City increased in size and prospered until the late 1920's at the start of the Depression.
Based on our family history, my Grandfather traveled, initially, as a young man in his teens to Florida to work in the cigar factories. It was in Ybor City that he would eventually meet his future wife, get married, and have his first child.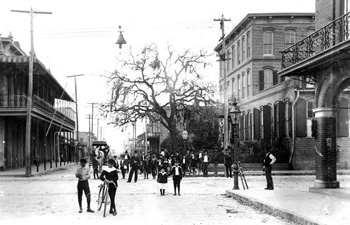 Havana-American Cigar Factory in Ybor City in 1900's
Photo: Floridamemory.com
The 'Olivette' transported passengers between Cuba, Key West and Tampa
Photo: cigarcitymagazine.com
My Grandfather left Cuba in the early 1900's and traveled to the United States on the 'Olivette', a ship that sailed via Key West, Florida

enroute

to Tampa, with his destination in Ybor City.
While searching through the Ship's Passenger Lists, I found his name listed on 3 separate lists.
This helped me to identify the number of times that he traveled back to the United States. The first listing he is emigrating from Havana, Cuba, the other two instances he is traveling to Havana and returning back to Tampa.
Based on the stories, my Grandfather
left home to find work in the Cigar-factories in Tampa. He
either traveled with a friend from Cuba or met him in Florida. This friend actually, became my Great-uncle, as his sister married my Grandfather.
There is so much more to this story that I need to uncover to fill in the blanks.
The questions that I am trying to answer are; Did he travel alone? Was he traveling to Tampa to meet someone already there? Did he have a job waiting?
O.K. Logic says that at 18 or 19 years old, you typically do not travel to another country unless at the very least, know someone that you can stay with.
Traveling alone for the first time in that point in history was huge, or maybe I am inserting my own thoughts on this through the eyes of a mother. The thought of one of my children at that age, leaving to go to another country without speaking the language and knowing someone, is just not realistic in that era. That was not 2012, it was 1908 and the world was a much bigger place

then

, than our world today where you can be across the world within 24 hours.
The names that I found listed around my grandfather's name do not appear to be in connection to him. So it would seem, at this point that he traveled alone.
I checked the additional pages on the manifest, as I considered the possibility that they could have become separated. However, I did not see his friend's name listed as a passenger.
One interesting point.
The surname I have been searching is 'Valuja', however, he is listed as 'Baluja' on all the passenger lists. I had to verify that I had the correct person. Based on his first trip in 1908, the name of his nearest relative and address he lists is of his father in Cuba, my Great-grandfather. On his later journeys the name he lists as his nearest relative, is his wife, living in Ybor City, which is indeed, my Grandmother.
It is necessary to check a variety of spellings

for

a surname, as it could be missed very easily based on the smallest discrepancy. In this case, I knew that the miss-spelling was the correct person. My aunt, who is my Grandfather's daughter, was born in Ybor City, with her surname listed incorrectly. As a result, from that point on all of her documents went by that spelling her entire life. Not really sure why, they did not correct it, but it could have to do with the language barrier.
The spelling error started from the beginning with my Grandfather on his first voyage.
I

found

a

nother interesting tidbit of information, as I discovered

a second page continuing the information from the first page, that I had not seen before. As I checked the sheet for the line number listed on the first page,

I found the section that lists the name and address of the relative or friend they are to visit.
This is where I found his friend. So, I know that my Grandfather did travel alone and came to meet his friend in Ybor City.
What I have determined at this point, is that my Grandfather immigrated to the United States in 1908 to Tampa and made his home in Ybor City. He traveled to Cuba and returned to Tampa on 2 separate occasions in 1914, during the month of July and then again in September.
I have so many additional questions.... Why is my Grandmother not listed on any Passenger List from Cuba to Tampa? When did she emigrate from Cuba? I know that she met my Grandfather in the U.S.
When, where and how did my Grandfather meet my Grandmother?
Route from Havana to Tampa
Photo: Geoff Mangum's Putting Zone
Unfortunately, there is no way to investigate his trips to Havana on the Olivette, since he entered another country and those records are held by immigration in Cuba. Although, there is a possibility that in the early 1900's, records may be found through Spain, that is a good prospect to further research.
Sadly, at this point there is no access to those records, since the country is under a Communist government and gaining access to information is very difficult.
Next time, Part 2... 'Life in Ybor City from 1908-1915'
"May your footprints today, leave a treasured legacy tomorrow"
Copyright © 2012 Marilyn Poole /The Genealogy Gap